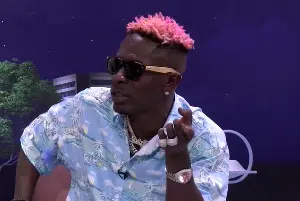 The incident occurred when the SM boss visited Kumasi-based radio station, Pure FM, for an interview concerning a concert the artiste was scheduled to perform in Kumasi.
In a video sighted by GhanaWeb, the dancehall artiste seemed unperturbed by the incident as he was focused on his interview and was not given much attention to what was transpiring around him.
The identity of the fainted individual is not yet known but he went unconscious as he was being helped by two men to stand yet he was unresponsive.
Shatta Wale has one of the biggest fanbases in the country when it comes to music and his popularity is well established across the nation.
During the interview with Pure FM, Shatta Wale was heard saying, "I will urge the fans to come in their numbers because I've made up my mind to gift the fans certain things."